Update/Reminder: If you were not targeted via e-mail, open your SoFi app and look for the offer banner (see below) in your "Banking" tab. You may have been targeted that way instead. Also a reminder that the deposit must post by 9/30, so act quickly. I have just completed my transfer, initiated at external bank.
More details on the SoFi Balance Offer promo page, which states "This offer is limited to one per account. You must receive this offer directly from SoFi to be eligible."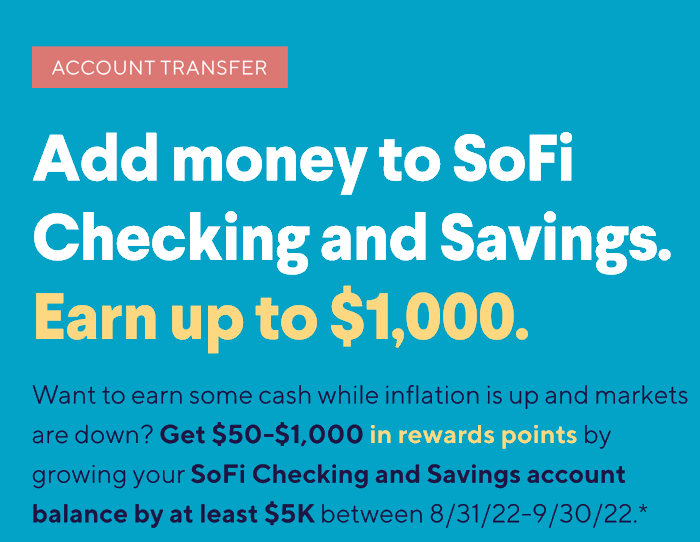 Transfer new cash (at least $5k) into your account by 9/30/22.
Maintain your balance until at least 11/30/22 in order to receive your rewards.
As long as your account is in good standing, you will receive your rewards points by 12/14/22.
Tiers are all 1% of the minimum tier amount, up to a $1,000 bonus for $100,000+ in new funds: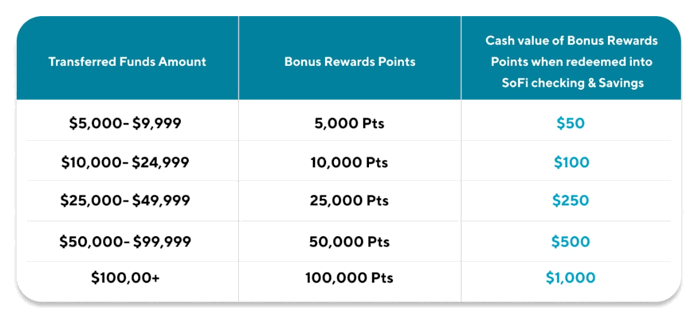 If you consider the minimum holding period to be 2 months, this works out to an additional effective 6% APY during that time period. If you consider the minimum holding period to be 3 months, this works out to an additional effective 4% APY during that time period. This would be on top of the ongoing interest rate, currently a competitive 2.00% APY as of 9/8/22. This is a solid bonus for existing users.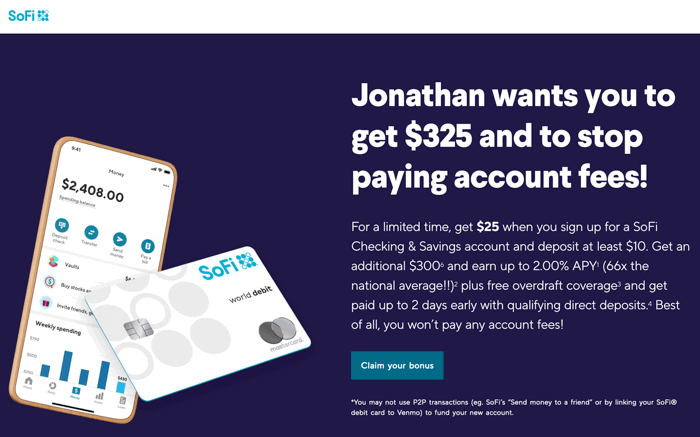 If you don't have a SoFi checking account yet, check out the new referral offer of $25 new user bonus + $300 direct deposit bonus. Open a new SoFi Money account and add at least $10 to your account within 5 days, and get $25. Then get up to $300 additional bonus with qualifying direct deposit. Details here.
SoFi ("Social Finance") is a financial "super app" that expanded from students loans into banking, stocks, crypto, credit cards, and more. Here are some of their other offers; New users can receive a separate opening bonus for each separate part of SoFi (Money, Invest, Crypto, etc).
SoFi Invest Referral Offer: $25 new user bonus. Brokerage account. Open an Active Investing account with $100 or more, and you'll get $25 in stock.
SoFi Invest Alternate Offer: Claw Game. Feeling lucky? Compare the $25 guaranteed above with a ~95% chance of a smaller $5 or $10 bonus, but a 0.028% chance of a $1,000 bonus.
SoFi Invest Asset Transfer Offer: Up to $5,000 Bonus. Transfer over your existing assets from another broker and SoFi will pay you a bonus. From $50 bonus for transferring $5,000 in assets all the way up to $5,000 bonus for $2 million in assets.
SoFi Credit Card Referral Offer: $50 bonus. Standard feature is 2% cash back with no annual fee.
SoFi Credit Card Alternate Offer: 3% Cash Back on SoFi Credit Card Purchases for 12 months.
SoFi Crypto: $10 to $100 new user bonus. Get $10 bonus for a $50 trade, $100 bonus for $5,000 trade.
SoFi Student Loan Refi: $300 bonus. Warning: Do your research before refinancing your Federal student loans to a private lender.
SoFi Personal Loans Referral Offer: Fixed $300 bonus. Fixed $300 bonus, 90 days after successful funding. The loan has no fees and you can pay it back in full after 90 days.